If you have been reading this blog for a decent amount of time, you are probably familiar with my association with working with children with special needs. Special populations are near and dear to my heart and I have had the opportunity to work with individuals with special needs in a number of different settings.
Without overloading you on this year's post with my background/history working with children with special needs, I'll direct you to this
post
I wrote last year in honor of Spread the Word to End the Word Day. Instead, I'd like to tell you a little bit more about the "Spread the Word to End the Word" campaign and share my thoughts on the use of the "r-word."
Spread the Word to end the Word is a campaign to spread love, not hate. Per the website:

"

Spread the Word to End the Word™ is an ongoing effort by Special Olympics, Best Buddies and our supporters to raise the consciousness of society about the dehumanizing and hurtful effects of the word "retard(ed)" and encourage people to pledge to stop using the R-word. The campaign, created by youth, is intended to engage schools organizations and communities to rally and pledge their support at www.r-word.org and to promote the inclusion and acceptance of people with intellectual and developmental disabilities.It is time to address the minority slur "retard(ed)" and raise the consciousness of society to its hurtful effects. This year's day of awareness to Spread the Word to End the Word is almost here! Join thousands of young people in communities around the world on 03.07.12 in pledging to End the R-word! Read below to see what YOU can do, or visit www.r-word.org to learn how you can Spread the Word to End the Word."
As recently as 4 years ago, I still used the "r-word." I admit it. I was ignorant to its effects on people because I was not intentionally targeting special populations when I was calling my friends that or using the "r-word" to describe a situation. I was not being malicious, but having worked with college aged students with special needs, I have seen first hand what the "r-word" can do to a person.they don't know what it means" or "I'm not saying it and meaning he/she actually has a disability." However, f
or people with special needs, their families, caretakers, or friends, the "r-word" is a shot to the heart. The r-word is an insinuation that the person who is being called that, or people who have special needs in general, are a lesser version of a human. As eloquently stated in this article "
As these two words are
now
commonly used? They are (at all times), meant as a euphemistic put-down. And the genesis of the "put-down" itself is based on disparaging a population of special needs individuals who have always been viewed as inferior to the person mouthing the words: 'retard' and 'retarded.'"
Now, when that word slips out of a friend's mouth, and sometimes even a stranger's mouth, I take the time to explain my point of view. These individuals may not think they are causing any harm, but NO human being is unworthy or love and respect, even if they are a little different. There are so many other adjectives one can use to describe a situation/a person. My favorite adjective to use is "silly." I use silly to describe nearly everything. I'm also very conscious now to make sure that I am not being offensive to any group of people, although that is a work in progress.
This post is not meant to be a "holier than thou" post or to shame anyone into submission. I simply wanted to highlight a campaign that is near and dear to my heart and maybe educate some readers along the way. That being said, if you are interested in taking
the pledge against the use of the "r-word," please click here.
Even if you decide not to stop using this word, please take the time today to spread love instead of hate.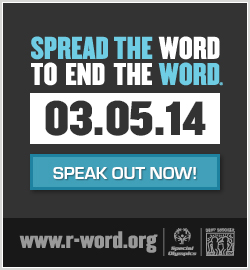 Note: This post is not associated with the Spread the Word to End the Word Campaign. They do not know that I wrote this post, but the campaign is so close to my heart that I wanted to write about it.
No questions today, but please share your thoughts!