So, after weeks (okay, maybe a month) of
talking about it
, I finally have a doctor's appointment scheduled for Friday. I figured that since I am not an orthopedist and self-diagnosing hasn't gotten me very far, I'd go to an orthopedist to see what I could do about this bum leg of mine.
Or an injury...for a month
That being said, I've been spending the last few days mentally preparing myself for recovery. I'm not sure the doctor will recommend time off, but I'm guessing he will since I haven't taken a true rest period, even though I've been running a whole lot less. I know that it will be hard for me to take a break (I basically drooled over everyone running on the treadmill today), but I'm hoping that with the support of friends and family (You guys included!), I will survive this rough patch.
Here are the steps I've taken so far to prepare myself for recovery:
1. Limit my sweets to once a day
---I love desserts. However, I figure that since there is a chance that I will be moving less when I'm recovering, I can't have a piece of chocolate after lunch and a scoop of ice cream after dinner. I know, it makes it sound like I eat a lot of sweets (which I guess I do), but I'm saving my sweet tooth for
after dinner :)
2. Collecting upper body workouts.
---I want to continue to be active, if possible, so I'm trying to find upper body workouts that I will enjoy and that I can do without hurting my lower body. That being said, I need some help! Please send me your favorite upper body workouts!
Same meme, different saying ;)
3. Watching a lot of American Horror Story
--- It's scary, but I've become addicted and I can't stop binge watching it. Granted, I have nightmares almost every night, but it's getting me used to lounging around ;)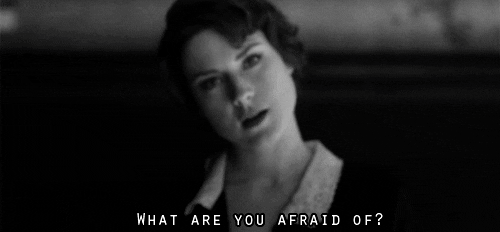 4. Focusing on the good
--- I realize it's not the end of the world if I have to rest. My body might be happy. But, just because I'm at this road block, that doesn't mean there isn't a million good things in my life right now. I have so much to look forward to in the next few months that this little setback won't kill me.
An injury is not the end of the world. My brain is telling me to run myself into the ground this week to make up for what I will be missing. I know that I need to do something proactive about this leg in order to get back (or better) to where I was. Think good thoughts for me up until Friday, please!!
How long does it take you to go see a doctor? What is your favorite way to recover from an injury?