The title sounds scary, but the diagnosis isn't as horrible as I was anticipating. The official diagnosis is:
hamstring strain
.
Just kidding, I'm not that shocked
Hips, bones, and knees all move well and looked great on the x-ray (according to the doctor). When he did his manual examination, he said that my hips and knees all moved normally, so that was a good sign that all of the damage is in the hamstring itself.
The solution? At least two weeks off of running, physical therapy, and oral steroids.
I'm guessing that the actual time off of running will be longer because he wants me to do some physical therapy and doesn't want me to run until the hamstring is looser. Then, when I return to running, he wants me to do intervals to build back up, which will be hard for me because I've never used intervals in a run before. The good news is that he says I will be race ready by September, which means that summer training will be happening!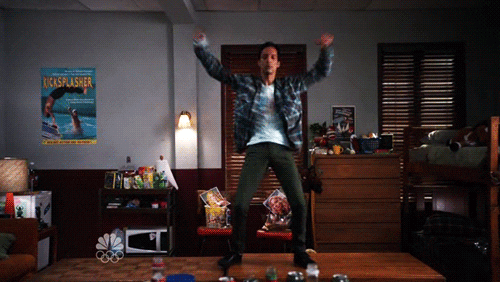 I can also cross-train my heart out to "keep my fitness and sanity." The steroids are to attack the inflammation, but he said he didn't write a strong prescription because I am "not a very large person." Drugs scare me...so this should be interesting!
I'm hoping to be able to run again when I'm in Europe because I want to see the cities that way, but we shall see. I'm just thankful it wasn't worse than what it is! But, I'm sure that by next week, I'll be feeling like this:
Thanks for all of your healing vibes that you have sent my way :) Happy Friday!
What's happy about your Friday today?